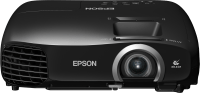 The Epson EH-TW5200 Projector with installation by UK Home Cinemas.
Delivering 15,000:1 contrast ratio and natural flicker free images with Epson's 3LCD panels, the EH-TW5200 provides superb high quality images and good contrast for a wide variety of content. Epson's Super Resolution technology creates a sharp, clear viewing experience. Delivers 2000 Lumens colour light output and white light output. This is ideal and indicates that the projector is capable of outputting the same total amount of light in the 3 primary colours as it can output as white light. – This is certainly not the case with some projector technologies (the ones we don't sell).
Switching to 'fast mode' means that fast-paced video games are projected smoothly and accurately. With no lag time, the action is projected without delay – important for tournaments or matches that need split-second reaction times.
Two HDMI devices can be connected directly to the projector
The projector's powerful zoom lens makes it quick and easy to set up in a variety of positions.
3D content is noticeably bright thanks to Epson's luminance enhancement technology.
The EH-TW5200 offers a wide selection of connectivity options, including one HDMI – MHL port. This means that not only can you play Full HD content, but also videos, music and photos from your smartphone and tablet.
The projector is compatible with industry standard RF triggered 3D glasses from Epson and other home projector and TV manufacturers.
This package includes delivery , planning in advance (including calculating throw distance and suitable screen sizes) , delivery, a ceiling or a wall mounting bracket and up to 5 metre HDMI cable. Other requirements can be accommodated. Please let us know how we can help.