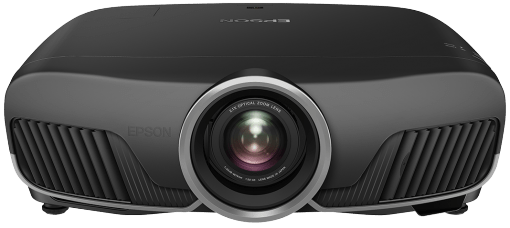 The highly acclaimed Epson EH-TW9400 with installation by UK Home Cinemas.
Delivering 1,200,000:1 contrast ratio and natural flicker free images with Epson's 3LCD panels, the EH-TW9400 provides superb high quality images and rich, deep blacks for a wide variety of content. Epson's Super Resolution technology and Frame Interpolation creates a sharper, clearer viewing experience with a smoother, more fluid screen movement. Delivers 2600 Lumens colour light output and white light output. This is ideal and indicates that the projector is capable of outputting the same total amount of light in the 3 primary colours as it can output as white light. – This is certainly not the case with some projector technologies (the ones we don't sell).
Two HDMI devices can be connected to the projector.
The projector's wide lens shift and powerful zoom lens make it quick and easy to set up in a variety of positions. The centred lens and front exhaust offer great flexibility during installation.
The ISF certification assures accurate colour management for superb image accuracy.
3D content is noticeably bright thanks to Epson's luminance enhancement technology. By doubling the refresh rate from 240Hz to 480Hz, the blackout period between left and right eye images is cut down, crosstalk effect is dramatically reduced, and high image brightness is maintained in the projector's 3D modes.
It currently comes with an Epson 2 year on site warranty and an Epson 3 year lamp warranty Subject to registering your projector with Epson.
We were so impressed with the epson EH TW-9400 projector range that we use them in our home cinema installation packages.
Due to it's impressive brightness It is particularly suited to use in a general living space, but it's contrast performance ensures that it is equally suitable for use in a fully darkened cinema room.
We bundle the Epson EH-TW9400 projector with installation which includes ,delivery, a ceiling or a wall mounting bracket, and a 5 Metre HDMI cable. Other requirements can be accommodated please let us know how we can help.