Image Gallery & Testimonials
Dedicated cinema room upgrade in Berkshire.
We completed this dedicated cinema room upgrade in December 2013.  The AV receiver was replaced , new HDMI cabling was run inside the ceiling to the projector, acoustic alignments carried out and the projector was upgraded to a JVC DLA-X35 .
Our client wanted the projected image to be as large as could be achieved within the space available and understandably he wanted the projector to be positioned close to the ceiling. The presence of an RSJ inside the ceiling at the back of the room made it difficult to achieve these objectives, so we custom built a structure just in front of and just below the RSJ to provide a substantial platform to support the projector in it's ideal position. It was decorated to blend perfectly with the aesthetics of the room and the objectives were achieved. – Our client was delighted and his feedback can be seen below.

Customer testimonial – Dedicated cinema room project pictured above:
I just wanted to thank you for the work you completed on my home cinema. Right from the very start you have been really helpful but more importantly, responsive to every request I made of you. I know better than anyone that when you undertake a bespoke piece of work that nothing generally goes to plan and my job was no exception. I'd like to thankyou for your persistence in making sure everything worked perfectly which meant a few extra site visits. I'm certain other companies would not have gone the extra mile as you did. I'm delighted with the end result, and I would have no hesitation in recommending you to any future client'  D Holmes – Berkshire
Lounge cinema in Surrey with RTI control and multi-room audio.
We completed this Lounge cinema room in February 2014.  The Challenge was to install the system neatly into a cottage, where for various reasons it was not going to be possible to embed cables into the walls or ceiling.
The client was particularly keen that the system should be user friendly , so an RTI control processor was specified and an RTI touch screen remote control was custom programmed to provide icon based control  for every aspect of viewing and listening.
In the areas where it was impossible to embed the cables into the walls or ceiling various types of curved profile mini and micro trunking were used to the conceal the cables.
Wired internet was available elsewhere in the property and needed to be extended to reach the built in AV cupboard to provide the fastest internet access for the lounge cinema equipment and for on demand services etc, so a cable route was identified in order to achieve this.
Customer testimonial – Lounge cinema pictured above:
After UK Home Cinemas and home automation had been recommended to me by a friend they showed enthusiasm and imagination right from our first conversation. Richard made himself available in my own home to make suggestions for the bedding in of our home cinema system, most of which would otherwise never have occurred to me. They were accommodating enough to allow me to experience their demonstration system, something that made the decision to go with UK home cinemas an easy one. The quality of work is exceptional and they were extremely considerate in causing minimum disturbance to my daily routine. Ongoing correspondence is a particular strength and a major positive for me while I get to grips with the system-one which is set out logically and very user friendly. It would not be an exaggeration to describe the end product as life changing as our home finds a new focal point for relaxation and recreation – M Cook.
Lounge cinema upgrade in west London.
We completed this upgrade of a lounge cinema in early February 2014.  An ageing 3 CRT Sim 2 projector was replaced with a new epson EH-TW9200W. Although the old projector still worked well , the quality of the images was totally transformed by this upgrade. We also replaced the old projection screen with a new cyberscreens grand View screen. The original floor standing front left and right speakers were replaced with smaller speakers in order to make space for the larger sized screen.
Customer testimonial – Lounge cinema room project pictured above:
I wanted to upgrade my 12 year old SIM2 CRT projector and 77″ Vutec screen and found Richard Bell of UK Home Cinemas on the internet. Having visited Richard's own home cinema setup of the Epson 9200W projector on a 100″ screen, I was convinced this was the way to go. We discussed lots of different options and possible configurations before Richard came on the appointed date to do the installation. As this was an upgrade we both had to get involved with taking down the large and heavy old CRT projector, but Richard took over at this point and installed the Epson 9200W projector with a flush ceiling mounted bracket that is extremely neat and discreet. Richard also installed a 92″ Grandview cyberscreen that also hugely improves the big screen experience. Richard worked late into the evening to ensure that all the tasks were completed and done as neatly and tidely as possible. Highly recommended !" Malcolm Smith – 22 Mar 2014

An example of our control system programming , in this case an RTI T3-V+ contrlling an RTI Dock (Ipod dock) features album cover art and browsing from the remote

TV based home cinema installation in Berkshire – October 2013
Customer testimonial after installation of the TV based system pictured above:
Following a major house refurbishment I used UK Home Cinemas to install my home cinema system. I found them to be very professional, very customer focused and very price competitive. Should the need arise I would definitely use their services in the future and strongly recommend them to potential future customers.   Ray C .
[/row]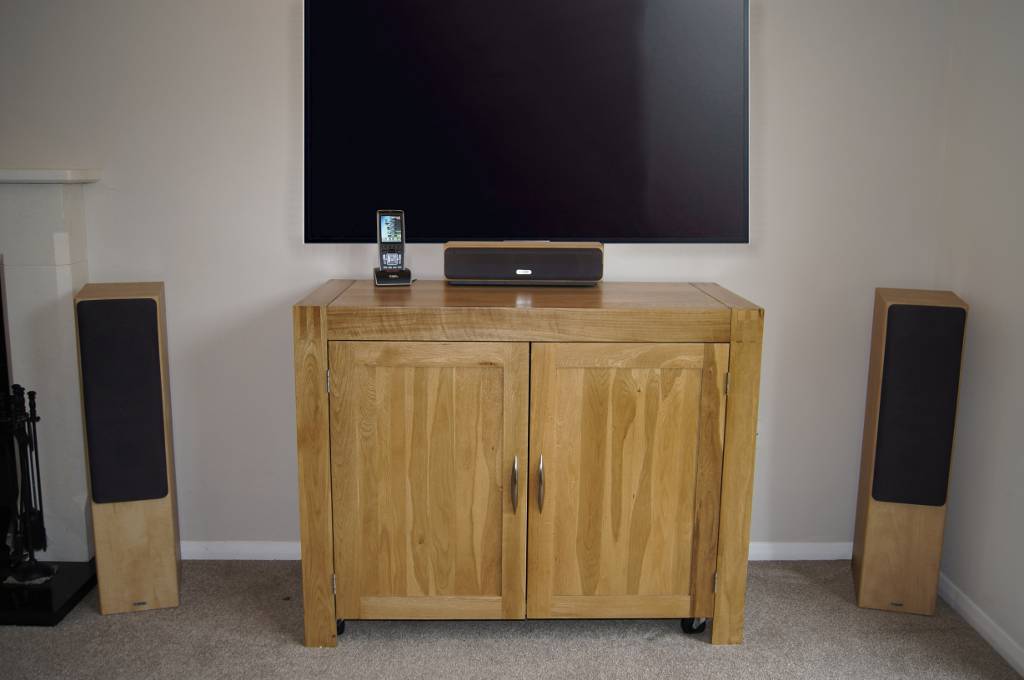 Installation package based TV home cinema in Berkshire – (with AV cabinet doors closed)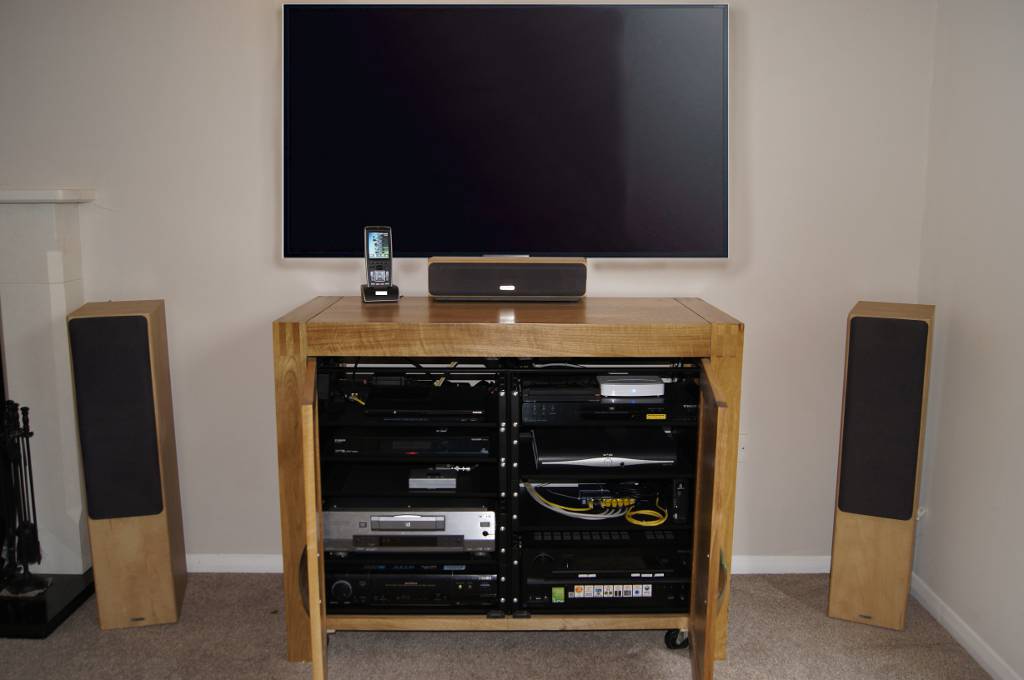 Installation package based TV home cinema in Berkshire – (with AV cabinet doors open) – October 2013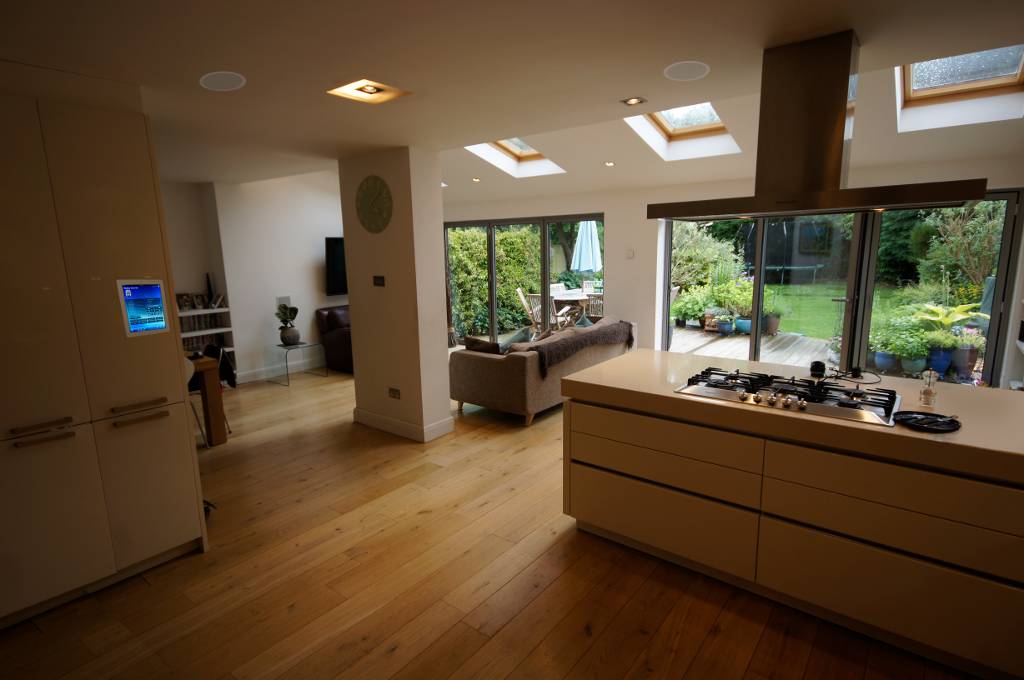 Multi room Music system in Earley – with ipad control and ceiling speakers.
Video Gallery
Autonomic Mirrage Audio System
Colour Light Output spec Explained
Epson Colour Light Output – Projector Shoot Out
(Sound In English)

Why 3 Chip Systems Can Produce A Higher Colour Light Output Than Single Chip DLP
The advantages shown in this clip, for 3LCD are also true for the other 3 Chip projector technologies. This clip also shows how single DLP systems project the primary colours sequentially ,(one primary colour at a time). This can cause a proportion of viewers to see coloured flickering and coloured rainbow like patterns in the images

Sony VPL-VW1100ES 4K Projector
Sony VPL-VW500ES 4K Projector
Epson EH-LS10000 Projector EISA Award winner
Epson EH-LS10000 AV Forums Highly recommended
Epson EH-TW9200 Projector review by AV forums